How to Create Animated Gifs
for use as a avatar slide show.
---
One the questions I often recieve is 'How do you get your avatar (signature picture) to have several pictures in slide show?'
The question is refering to an avatar picture like this:





This image is actually a file in *.gif image format with multiple frames stored within. Commonly refered to as an animated gif image. Making these requires a little graphic software savvy, but is well within most computer users abilities with a little practice.
To do these, you first need image editing software. This software needs to at least be able to allow you to resize images, crop, and save individual images in *.gif. Many digital cameras include image software with these features.
Next, you need software capable of taking your individual *.gif images and using them a frames to create the slideshow (animated gif), then saving that slide show in a separate animated *.gif For this process I use an older piece of software called Microsoft Gif Animator. It is several years old but is fairly easy to use. Best part it is free. You can download a copy of this here:
http://www.macesoftware.com/gifsetup.exe
Here is a screenshot of Microsoft Gif Animator in action: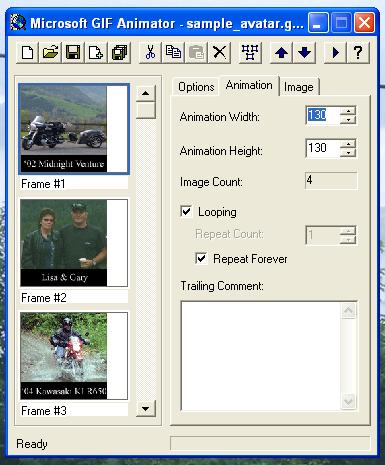 So, once you have the software you need, the steps to create your avatar slide show are:
1. Using image editing software, crop and resize the pictures you want to use in the slide show. All images MUST be the same dimensions in pixels. Our forum accepts avatars up to 130 pixels X 130 pixels.
2. Each picture (frame) must then be saved in as a separate image in *.gif format.
3. Next, fire up Microsoft Gif Animator. I am not going to get into the directions on how to use this program here. It has help files that should explain it fairly well. Overall, most should be self explanatory.
4. Load each previously saved *.gif picture as a frame to your new MS Gif Animator project. You then want to set it to loop forever. On the image tab you set how many milliseconds each frame should display. I find 3 or 4 seconds (300 - 400 milliseconds) each frame works well. If you have it rotate too fast, most people find them to be very annoying!
5. Now, in Microsoft Gif Animator, save your project as a new *.gif image file. This new animated *.gif image is what you would use as your forum avatar.

Keep in mind, we do have a maximum file size also for avatars. It is as of this writing set to 64kb. If you try to have too many frames in your slide show (animated gif), you will likely exceed this limit. I find usually 3 or 4 frames is about all I can get at 130X130 pixels before exceeding the file size limit.

I know to those with little graphic image experience, this all probably still seems confusing, but with a little time playing with this, it really isn't too hard.
Have fun!!

Last update: 10:05 PM Thursday, November 16, 2006