RSV Key Information
From Members Forum
---
I just had my ingnition repaced under warranty. No problems with getting local dealer to repace it even though I bought the bike used, privately and eventhough it wouldn't act up for them. RVS 2000 still under warranty as it did not leave the dealers floor untill 2002.

Only problem is now I have to deal with two keys, one for the ignition and one for the bags. Can they somehow be keyed the same whithout too much expence?

Harry
---
my understanding is yes you can key one side for the ignition and one side for the bags. Am going to do it this winter. 8ball
---
I've also heard what 8ball reports will work. The only thing it changes is that your key will only work in one direction in either lock. You'd need to mark the key (with a filed notch or otherwise) so you'd know which direction to put it in the ignition each time so it would work. Otherwise, you'd hafta put it in and try it and if it didn't work, you'd hafta pull it out and turn it a half turn and try it again. But it seems like a good solution to me for this problem, and any good locksmith should be able to cut the key(s) so one will work for both (if this is true).

8Ball, I'm also anxious to hear your results when you try this.
_________________
So long ..... Pudge
---
For everyone's information

There is an ilco key available that doesn't have the rubber wrap, and that most key shops should have in stock. I don't remember what vehicle it is for, but it does cross reference to the Yamaha keys.

The numbers are, (there are two of them and one might be obsolete)

X248 and YM63
_________________
Brad
---
The ILCO, X248, are the keys that I have too. They cost me $2.50 each and are blanks for foreign cars. So ya see,the ventures do have somethin in common with the foreign automotive world.LOL!! It does pay to shop around. Dave!!!
---
Also, just for reference, there is a eBay power seller that goes by key-master who sells OEM styled blanks for around $7 with $3 shipping. The look just like the stock key except they say Italy on them instead of Yamaha. I have a few blanks here to be cut from him.
http://myworld.ebay.com/ebaymotors/key-master/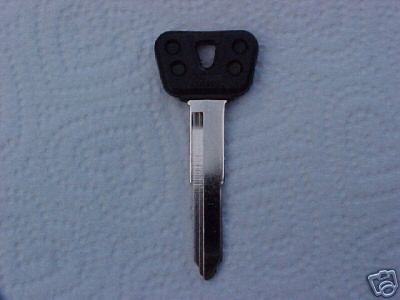 Please let us know if this seller no longer has these!
Venturous
---
Last update: 10:42 AM Saturday, December 2, 2006