I have found a great deal in baffled (sort of) Fishtail pipes Made by Custom chrome for about $200.00. They are a universal fit and fit the Header end perfectly.

All that has top be done is work up a hanger arrangement in the back. I used a 1.75" P clamp and bent the long arm over the Saddle bag mounting bars towards the back.

Sound is a little loud, but nice and smooth when cruising. Only need to turn up the stereo volume 1 or 2 notches. When you rap on the throttle it has a real nice bark to it.

The parts are real nicely made and the chrome job looks very good also. The fishtails look great on the 06 RSV.

Pipes I got on EBAY from BK Rider Store MFR part # CCI 11401, P-Clamps ( for Harley)are from BKRider CCI 67141, & the clamps (chromed) for the Headers are Harley 1 ¾" exhaust clamps from C's Closet/garage.

FYI the OD of the fat part of the pipes is 3", I could not find a 3" P-clamp. That would have been the easiest way to go.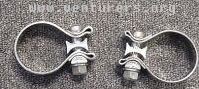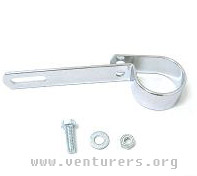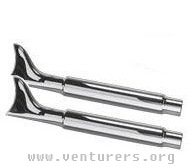 Last update: 08:03 PM Saturday, September 30, 2006